I'm honestly not really sure how to begin this post. I owe you an apology....it's been a good long while since I wrote, and it probably seems like I either fell off the face of the planet or just gave up on this whole blog thing altogether. But I assure you it's neither; on the contrary, it's more the fact that my life has been so chalk full of adventures and love and family that whenever I've gotten a spare moment I've been pretty much overwhelmed at the prospect of trying to write about it all. So I put it off, and now I'm even more overwhelmed but also feeling very guilty for neglecting what has turned into one of my most favorite projects. In conclusion, I will try to keep this entry shorter than it could be, and I have a good excuse: almost unbelievably, what lies ahead for us is infinitely more exciting than what has already been, and I promise that I will do a good deal more writing about all that as it comes. So this is just a quick catch-up, so that I'm no longer bogged down and can move on with all the joys that spring is slowly bringing.
In the interest of time, this will be a summary of sorts. I apologize for the formality, but I actually really like roman numerals.
I. MATT AND I ARE ENGAGED!!!!!!
Yeah, I'm aware that everyone and his/her mother already knows. But I still believe it's exciting enough news that the headline warrants caps and numerous exclamation points, and I own this blog and make all initial and final editing decisions, so there.
I sincerely apologize if we haven't gotten around to informing everyone of this fact individually, but hey, that's what the grapevine is for! And by the way, we have had an unbelievably effective grapevine. I think I was the first to inform about, oh, two people. Everyone I talked to after that was pretty much like, "yeah, old news." But in a happy way, of course. :) It's hard to say much more about this whole thing; the story is pretty sweet and involved my birthday, a scavenger hunt, and a ring combining heirlooms from both of our families (it's beautiful and perfect). At the risk of being waaaaay too mushy, I will just say that we are ridiculously in love and terribly excited about, and comfortable with, the prospect of spending our lives together. We've already started planning what I hope will be an intimate, family-oriented wedding, so there may be more details about that to come since I'm admittedly already obsessing about REALLY dumb things like possible wedding cupcake designs.
II. We went on vacation -- TO SOME PLACE WARM!!!!!!!
After careful consideration, I decided that this headline also deserved caps and exclamation points.
We went to Belize for a week with the Leaches, and had an absolutely wonderful time. We stayed in a resort right on the beach and it was gorgeous; here's pretty much the view from Jeff, Pat and Alex's room, and then a look back at our hotel from the water: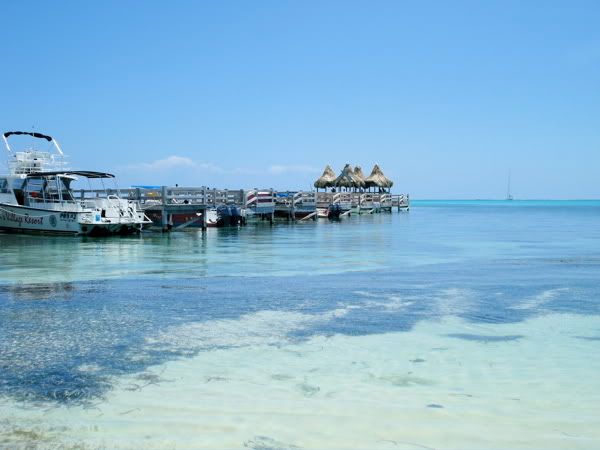 Pretty nice, huh? I can't even begin to explain how wonderful it was to feel the sun and the warmth; it was in the 80s most of the time we were there. We saw and did so much cool stuff while we were there, including but not limited to:
-Baking (aka, managing to procure an epic sunburn on day 1. Dumb.)
-Drinking Belikin Beer. A lot. Almost all the time, in fact.
-Visiting the Mayan ruins at Lamanai: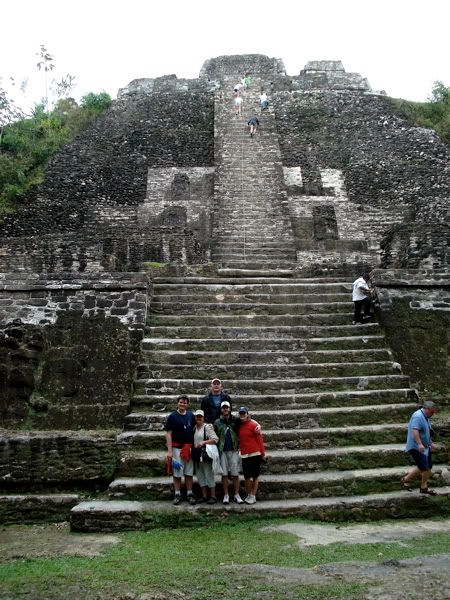 -Floating on inner tubes through lengthy caves with really cool rock formations.
-Petting Tapirs at the Belize Zoo.
-Taking ridiculously tiny airplanes out of the San Pedro airport on what seemed like a daily basis: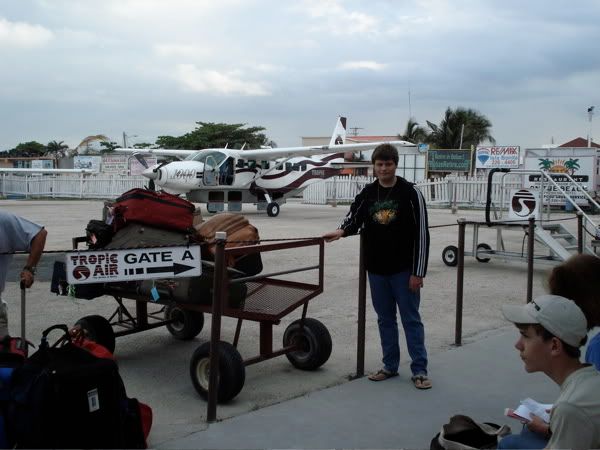 -Enjoying spectacular scenery at all times of the day and night:
In conclusion, it was amazing and I owe the Leaches my life for taking me along. No, really, I owe them my life, you know why? Because Milwaukee got 15 INCHES OF SNOW while we were gone. I swear. *Side note: that makes this winter officially the second snowiest on record. Sigh.
III. MY PARENTS CAME TO VISIT US!!!!!
Ok, I'm officially a fan of the sensationalist-style headline and I won't apologize for it. Plus, we really did have a fabulous time with my parents last week. They stayed at the Pfister, one of my most favorite old hotels, and I think I managed to show them almost every part of Milwaukee worth seeing. We of course went to the art museum and the Third Ward, had many awesome dinners, took Vinny for some nice walks, and talked a lot about wedding stuff. Thankfully, it was sunny for several of the days they were here (and even made it into the 40s), so I wasn't too mad when, inevitably, it snowed one day; and we tried to make the most of it by acting like snow is really nice and pretty and novel, which I know now is COMPLETELY untrue. I was sad to see them go but very happy that we got to spend a substantial amount of quality time together, especially since I was still on spring break and didn't have to work (yay!).
IV. I'll be damned--
SPRING IS COMING!!!!!!!!!!!!!!!!!


(Knock on wood.)
We had a bit of a thunderstorm the other night and I lay awake (because I never sleep well during thunderstorms) feeling happy, and relieved. Thunderstorms remind me of the end of last summer, when we first arrived, when it was hot and muggy during the days and there was often thunder at night. The whole thing seemed to me to be a marker of some sort; we haven't had a thunderstorm in months and it was a welcome change from the Silent Killer (snow). Then this morning I heard on the radio that this weekend it will be partly sunny and in the 50s. I seriously felt choked up. I could cry from happiness just thinking about it right now.
Yes, this winter has really, truly worn me out. But I'm all the tougher for it, right? I feel like I should get some badge of honor, or a tee shirt: I Survived the Second Snowiest Milwaukee Winter on Record During my First Year as a Midwesterner. It's a little too long to be very catchy, I guess. Anyway, I'll officially put it out there: we are emerging from this seemingly endless, exhausting season in a cautiously joyous way. No doubt, we are still bloody, bruised and beaten; but we're also discreetly optimistic, tentatively eager, just waiting for that final certain sign before we begin an all-out frenzy of barbecuing, frisbee throwing, and uncategorized frolicking, at which point we will likely completely forget (PTSD-like) how shitty Midwest winters are until next Thanksgiving, when the beat-down will begin all over again. I for one am ready to start forgetting. Bring on the blissful ignorance!