Well, see, it's funny--pretty much right after I wrote that monstrous post last Monday in a fit of despair and self-pity I got a call about my car. This is because as soon as I got home from CarMax that fateful day, I reduced the asking price in my online ads by $1000, which might seem like a lot, but hey, I was desperate, and it worked. This lady and her college-aged daughter wanted to come see it the next day, and they did, and then they wanted to buy it, and then they did. So, um, I apologize for putting you through all that, it was apparently unnecessary. But you'll be happy to know (I hope) that I will not come to a gruesome and untimely end on icy Milwaukee roads as a result of that particular vehicle. Unless, of course, something highly unlikely happens, like its new owner happens to find me and run me down while I'm crossing the street.
In other news, my friend Darcy visited us this weekend and we had a lovely time. We took the famous Miller Brewery tour yesterday and it was fairly entertaining (nothing quite like sitting in a theater and being bombarded by subliminal advertising on three large, colorful TV screens while hearing, over and over, "it's MILLER TIME!!!!"). It was free, so that was nice, and we got three samples at the end: Miller Lite, Miller High Life, and Leinie's Honey Weiss (apparently Miller owns at least part or most of Leinenkugel's, a Wisconsin 'craft brewer'). I decided that compared to Miller Lite, Miller High Life really IS the "champagne of beers." Darcy and I also did a little shopping on Brady Street and in the Historic Third Ward, the old warehouse district that has been redeveloped into very nice higher-end shops, popular restaurants, and super awesome loft condos. I have decided that if Matt and I end up staying here through his residency, we should live in a loft condo in the Third Ward. Here's an old picture of the Third Ward that I stole from some internet site:
It was first settled by Irish immigrants in the early 19th century, but a huge fire in 1892 displaced most of the Irish families and the area was resettled by Italians. Highway construction and mass movement to the suburbs broke apart the community by the 1960s, but in the 80s the Third Ward was deemed "Historic" by the National Register of Historical Places; apparently some 70 buildings there are on the register. After that it was redeveloped into the very vibrant and cool mixed-use community it is today and I love it. It's very urban, but friendly. Darcy and I went to the Public Market, an awesome old building housing various independent merchants selling all kinds of artisan and ethnic products, booze, and prepared foods. We bought some beer and pasteries (GREAT combo). Here's a newer picture of some of the riverfront Third Ward buildings: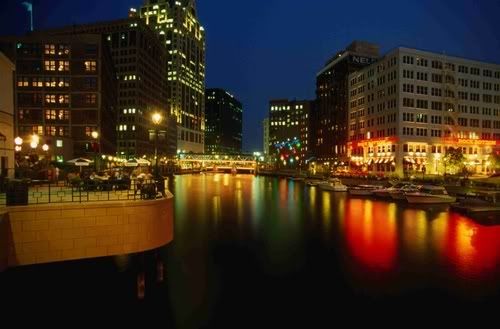 We also went to Maharaja on Saturday evening and had some YUMMY Indian food before checking out the Hi Hat Lounge on Brady Street for a couple of drinks. Milwaukee, somewhat surprisingly, has a lot of very good ethnic food. Thank god; I might die without good Indian food. Hi Hat Lounge, which I'd never been to, is a pretty happening place, but being there made me really hope indoor smoking will be outlawed soon in this state. Every time I go to a bar here I come out feeling like I have emphysema. Apparently something's on the books, and I'm grateful. Coming from California I just sort of assumed that the law was the same everywhere, but apparently the midwest is a little behind.
Overall, nice weekend and I'm thrilled to be rid of 'the shark.' So now I'm just sitting around dying to hear from Marquette and trying to think up smart back-up plans in the case that I don't get accepted, which would clearly be tragic and spawn many a monstrous blog post, so cross your fingers that doesn't happen.